The 1982 Hama Massacre – 36 Year On – Like Father, Like Son
February 2018, marks 36 years since the infamous Hama massacre of 1982 by the regime of President Hafez al-Assad, father of the current Syrian President, Bashar al-Assad. Like father, like son, both have committed grave crimes that has torn the lives of millions of Syrians.
During that bloody month nearly 30 years ago, Syrian Muslim Brotherhood members rose up in the city, killing hundreds of troops loyal to the Alawi-led regime of President Hafez al-Assad. In response, Assad conducted one of the most chilling acts of retribution in the modern Middle East: Forces under the command of his brother, Rifaat, leveled entire neighborhoods of the city, killing an estimated 20,000 people.
Hafez al-Assad's crackdown on Hama began in the dead of night on Feb. 2, 1982, and continued over the next month until every neighborhood in the city was subdued or destroyed. While reporters stationed in Damascus were acutely aware that a bloody insurgency was underway in the city, they had little sense of its scope. On Feb. 24, the Associated Press quoted Western diplomatic sources saying that the fighting in Hama had "resulted in an estimated 2,000 casualties on both sides" — an approximation that grossly underestimated the number of people killed.
It was not until a year and a half later that reports of the Hama massacre's true extent filtered into the international media. Amnesty International's November 1983 report estimated that 10,000 to 25,000 people had been killed during the crackdown. The report also contained chilling details about the Assad regime's methods of coercion. "I was stripped naked…. My wrists were then tied and I was hung up and whipped on my back and all over my body," recounted a Syrian trader detained in 1980. "I was beaten on the toes until my nails fell out."
Even then, Hama did not become a byword for the brutality with which Middle Eastern autocrats treated their subjects until the publication of Thomas Friedman's From Beirut to Jerusalem in 1989, which offered a blow-by-blow account of the massacre.
Buy book here – http://amzn.to/2o2PUQV
Friedman recounted a conversation he had with a friend — a businessman who had been involved in several deals with Rifaat al-Assad — who said that the Syrian general had pushed back against some estimates of those killed as too low, not wanting to erode the fear that the Assad regime had instilled in the Syrian population. "What are you talking about, 7,000?" Rifaat reportedly said. "No, no. We killed 38,000."
But Friedman's and Amnesty's reports were released long after Assad had consolidated his control, rendering their impact in Syria largely moot. At the time, reporters were not only constrained by the media blackout — they also had to contend with that old standby, fear of government retribution. On March 4, 1982, Washington Post assistant managing editor Jim Hoagland described the difficulty journalists in then Syria-occupied Beirut faced in reporting on the unfolding struggle. "One British journalist working the Middle East is convinced that some senior Syrian authorities did make a deliberate decision nearly two years ago to silence press critics," he wrote, the result of which was the assassination of several Lebanese journalists and the shooting of a Reuters correspondent. "[T]he perception of danger has spread throughout the Beirut press corps," Hoagland concluded.
Read original article by David Kenner on Foreign Policy here.
Read how the Guardian reported events.
In a three-week siege, Hama was razed and thousands died as Syrian security forces combed the rubble, killing surviving rebels.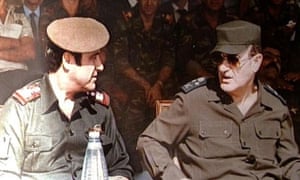 The Syrian city of Hama was the scene of a massacre in 1982 when President Hafez al-Assad, father of the current president Bashar al-Assad, razed the city to crush a Sunni rebellion, slaughtering an estimated 20,000 of his own people.
Assad's troops pounded Hama with artillery fire for several days and, with the city in ruins, his bulldozers moved in and flattened neighbourhoods.
The 1982 massacre is regarded as the single bloodiest assault by an Arab ruler against his own people in modern times and remains a pivotal event in Syrian history.

James MacManus, in a dispatch from 23 January 1982, reports that government forces are laying siege to Hama as house-to-house fighting wipes out any opposition. He recalls a series of car bomb attacks in Damascus culminating in an attack on a shopping centre in which more than 100 people died, describing the attacks as "the high point, but by no means the end, of a campaign of terror and counter terror… which President Assad now claims to have won".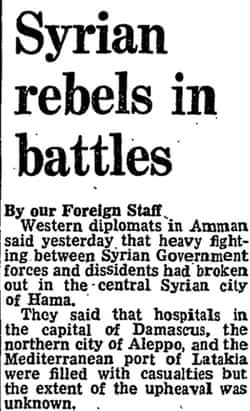 On 11 February 1982 the paper's foreign staff report "heavy fighting" between Syrian government forces and dissidents in Hama, noting that the city is sealed off by military units and that there are no eyewitness accounts.
On 24 February a Guardian editorial draws attention to the "merciless carnage" taking place.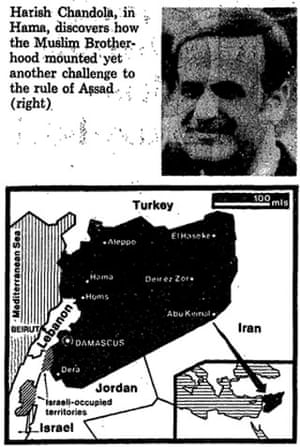 On 27 February Harish Chandola reports from Hama after the guns have fallen silent. He sees a column of smoke rising from the old quarter, where the fighting was the worst, noting: "I was not allowed to visit it. The security forces are tightly controlling entry and exit from the city to prevent the Muslim Brothers from escaping."

Nearly a year after the crackdown, the Guardian's David Hirst reports from amid the ruins in Hama, talking to residents and officials about the razing of the city's mosques.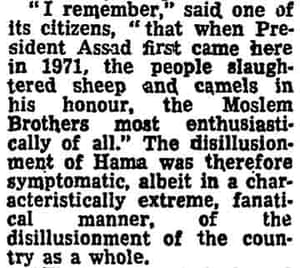 End.