London Fire – The Tale of Two Tower Blocks
London is increasingly becoming a city of high-rise living. There are more than 700 tower blocks, ranging from brand new luxury developments to the post-war council-owned buildings seen as a quick fix to cure problems caused by crumbling and unsanitary 19th Century hovels.
About 8% of Londoners now live in tower blocks. Some flats are bought for millions; others are relatively low-cost social housing rented from a local council at a fraction of the private rate. Grenfell Tower itself was designed in 1967, started in 1972 and finished in 1974.
Originally built as municipal housing as part of the slum clearances of the 1960s, it had 120 one- and two-bedroom flats over 20 of its 24 storeys, and was renovated in 2016.
It's in a neighbourhood ranked among the most deprived 10% in England.
Just two miles away – or four stops along the Circle/Hammersmith and City line – is 3 Merchant Square, a 21-storey tower that is part of a new development around Paddington Basin. The contemporary block was finished in 2016 and holds 60 apartments over 15 storeys.
It's a different world. The penthouse apartment was sold for £7.5m. One-bedroom flats are at least £1m.
Surrounded by restaurants and bars, workers and residents can lounge on deckchairs on a newly-built floating park. Lunchtime yoga sessions are held and there's a luxury fitness club.
There's an enormous fountain and a bridge created by renowned designer Thomas Heatherwick, a nursery and winter garden.
But nice though these peripheries undoubtedly are, they don't keep people safe from fire. For that, we must have a look at the specifications of the apartments in the tower.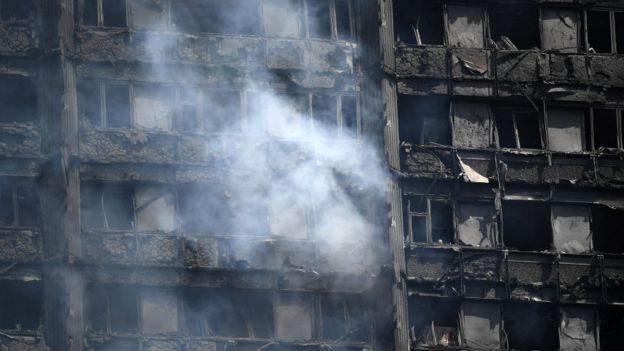 Once you get past the sales brochure description of 3 Merchant Square's walnut cutlery drawer inserts and integral wine coolers, the adjustable mood lighting and heated bathroom walls, you come to the fire safety details: Every flat has not only ceiling mounted smoke detectors but sprinklers.
The International Fire Sprinkler Association (IFSA) says that automatic fire sprinkler systems are the single most effective fire protection measure available, and are able to make up for a wide range of other fire protection deficiencies.
There has never been a multiple loss of life from a fire developing in a building protected by a properly designed, installed and maintained fire sprinkler system. While fire sprinkler systems have been required in new high-rise residential buildings in England since 2007, it is not compulsory to retrofit them into existing buildings. So Grenfell Tower had none.
Former chief fire officer Ronnie King, honorary secretary of the all-party parliamentary group on fire safety and rescue – which had recommended fitting sprinklers to buildings to save lives – said the regulations "badly need updating" and "three successive ministers have not done it".
"My own thinking is there was the red tape challenge and they don't really want to put regulation on to businesses, adding a burden.
"It's one of those that if you bring in a new regulation, you have got to give three up to get it."
A 2012 report by the British Automatic Fire Sprinkler Association (BAFSA) concluded that fire sprinklers could be retrofitted with tenants in place at a cost of about £1,150 a flat. Since the 24-storey Grenfell Tower contained 120 flats, it would have worked out at £138,000. That's significantly less than the £2.6m spent on the cladding and replacement windows.
Do you live in a tower block with similar cladding to Grenfell Tower? Let us know by emailing haveyoursay@bbc.co.uk
Architect and fire expert Sam Webb said: "We are still wrapping post-war high-rise buildings in highly flammable materials and leaving them without sprinkler systems installed, then being surprised when they burn down.
"I really don't think the building industry understands how fire behaves in buildings and how dangerous it can be. The government's mania for deregulation means our current safety standards just aren't good enough."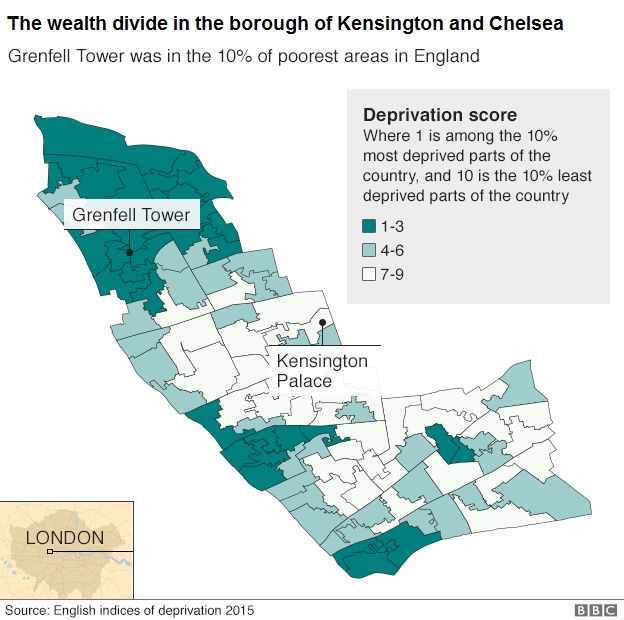 Some of these issues were raised in a report following a fatal fire at a tower block in 2009 in Camberwell, in which six people were killed.
Secretary of State for Communities and Local Government Sajid Javid said his predecessor in the role had accepted the report's recommendations and put them into action.
"The coroner did not recommend new planning regulations. The coroner recommended a change in the guidance. There is a lot of information out there and it is right that it is independently looked at by a judge-led inquiry," Mr Javid said.
When asked whether the government would retrofit sprinkler systems to tower blocks, he said: "I don't think we can immediately jump to the conclusion that sprinklers is the issue here. We will do whatever it takes."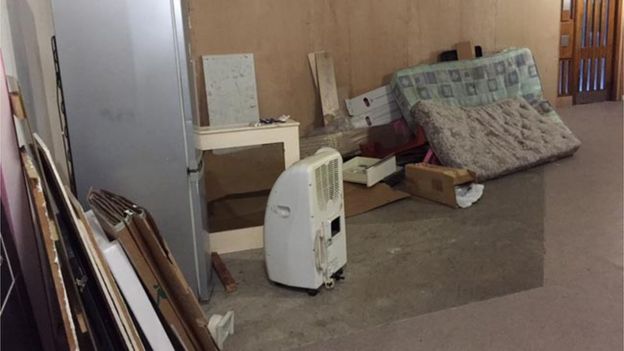 Another factor adding to the building's fire risk, according to the Grenfell Action Group, was the fact that in the past rubbish, having accumulated in the hallways of the tower, was not collected. At one point, the only emergency exit to the building was cluttered with an old mattress, sheets of cardboard and a broken heater.
It's hard to imagine residents in 3 Merchant Square having to put up with rubbish filling the corridors.
An associate pastor of Notting Hill Community Church, Danny Vance, says "the poor are constantly neglected" in the city.
"The disparity between rich and poor in this city is disgusting," he said. "This would not have happened to the £5m flats around the corner."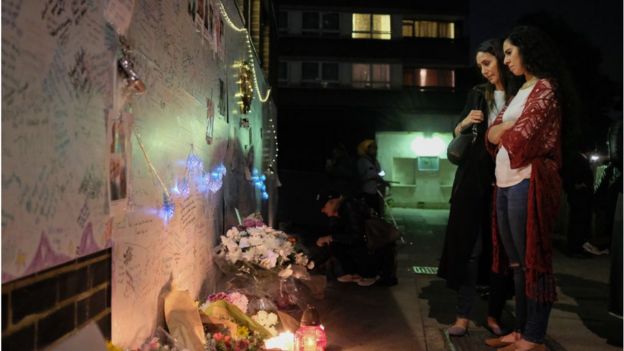 ---
The gap between rich and poor
The average salary in the Royal Borough of Kensington & Chelsea, in which the tower block stands, is £123,000: the highest in the UK.
But the median average – the midpoint of all salaries in the area – is £32,700. No other local authority in the country has such a large gap between these two averages, pointing to a huge contrast between high and low earners.
There is a similarly large gap when measuring the total income for people in the area. The average is £158,000, but the median is £38,700. Again, no other local authority in the UK reports such a difference.
In laymen's terms, it means that the total income in the area, if distributed among the local population, would be £123,000 per resident, the highest in the UK. Yet half of the population there earns less than £32,700, highlighting the extreme disparity between top earners and those at the lower end of the spectrum.
Source: Department for Communities and Local Government, the Office for National Statistics, and Her Majesty's Revenue & Customs.
---
Hannah Mansell, chair of the Passive Fire Protection Forum and trustee of the Children's Burns Trust, said: "I regularly sit in meetings with fire safety professionals, and their fury and frustration at the inaction of local councils and social landlords is palpable.
"We have been warning about the risks of a fire like this for years.
"'What we need to get people to take notice is a huge fire in a tower block' they say.
"Well, here it is. There's an endemic fire safety problem in this type of housing stock."
As Ronnie King says, "it's sad that we always have to go to stable-door legislation" after a tragedy.
Correction: An earlier version of this story had the wrong image of 3 Merchant Square. This has been corrected.